MAX
This overview is for agents. If you're an administrator see MAX for Administrators.
MAX is a contact-handling web application that enables you to interact with contacts using phone calls, voicemail, email, chat, work items. MAX also supports the simultaneous use of multiple channels

A way for contacts to interact with agents or bots. A channel can be voice, email, chat, social media, and so on. through dynamic delivery.
As you handle an interaction, MAX offers several tools to enhance your experience. You can:
transfer interactions to other agents or skills.
conference with the contact and another agent.
place the contact on hold.
disposition and tag the interaction to categorize it.
create reminders to reach the contact again at a later time.
use the address book to quickly place calls, generally within your own organization.
You can resize and set a preferred width for MAX and each media workspace. For example, you could set a different width for the phone workspace versus the email workspace. As you work, MAX resizes each workspace to the width you previously set. Adjusting the width for a contact applies only to that contact in that media workspace.
The channels and features available in your instance of MAX depend on how your administrator has configured it. Some of the features may not be available for you.
A comprehensive product training video is also available for those who are new to MAX.
The
MAX

Interface

The following image defines the tools in the MAX glance view, which is usually what you see when you log in to MAX. If your administrator has configured custom workspaces or WEM, those work areas are the main view with the glance view collapsed on the left; you can access the glance view by hovering over the pane on the left.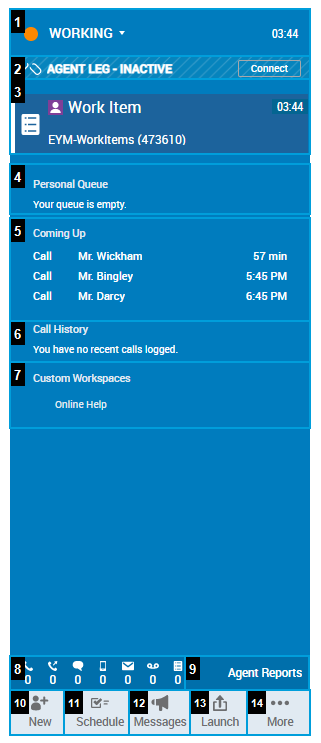 Menu Item
Details
Agent State (1)

Your current state. Available means you are ready to take on new work. Unavailable (or any custom variation configured by your administrator) means you are busy or away and unable to take on new work. Working means you are actively handling contacts. Depending on your organization's setup, you may or may not be able to take on more interactions when you are in the Working state.

Click the agent state bar to change your state or log out. You can change your agent state while you are handling an interaction. Once you complete the interaction, MAX changes your agent state to the one you selected. If configured, you may also be logged out when you close the MAX window.

If you are in an Available state and you refresh the browser window, MAX will switch to an Unavailable state.

Agent Leg (2)

Your connection to the contact center platform. You must be connected to the agent leg to handle voice contacts.

Current Interactions (3)

A list of the current interactions assigned to you. Depending on how your administrator configured MAX, you could have multiple chats, emails, voicemails, work items, or a combination of these interaction types. You may only handle one phone call at a time. Each interaction has a different color to help tell the difference between them. This is helpful when handling many interactions at once.

Personal Queue (4)

Interactions that you are not actively handling that are assigned to you. These interactions have usually been transferred to you specifically by another agent.

Coming Up (5)

A list of upcoming call commitments in your schedule.

Call History (6)

Information about your most recent calls.

Custom Workspaces (7)

Special links configured by your administrator. Click a link to open it in a pane to the right. For more information, see Manage Custom Workspaces.

Queue (8)

Displays the total number of contacts or items waiting in queue for each channel you are assigned to. You can click on a specific channel icon to open the Active Queues window. This window displays a more detailed list of that specific queue, including contacts that might have already been assigned to you. This list is organized by skill, displaying active skills for each queue's channel type. Within each skill, you can also see how many agents are active for that skill and how many of them are in each state. This is indicated by the number next to the green (Available), orange (Working), and red (Unavailable) circles.

Sometimes there may be a discrepancy between the Active Queues window and the general queue number under the channel icon. This can be from unique circumstances such as an inactive skill assigned to you, personal items you have queued, and so forth.

The queue area includes each of the following queue types:

—The inbound calls waiting in the queues of all the inbound phone skills assigned to you.
—The outbound calls waiting in the queues of all the outbound phone skills assigned to you.
—The chat interactions waiting in the queues of all the chat skills assigned to you.
—The email messages waiting in the queues of all inbound email skills assigned to you.
—The voicemail messages waiting in the queues of all voicemail skills assigned to you.
—The work items waiting in the queues of all work item skills assigned to you.
—The SMS messages waiting in the queues of all SMS skills assigned to you.

Agent Reports (9)

Opens reports about your recent work in MAX, including your performance, productivity, and a list of all skills assigned to you. See Agent Reports for more information.

New (10)

Allows you to place calls or start outbound emails by opening a new window that contains your address book, your call history, and a text field to manually type a phone number or email. Once a contact is selected, a skill must also be selected to initiate the call or email.

Schedule (11)

Displays your current commitments and allows you to edit those or to create new commitments. If integrated with a supported WFM solution, events from that schedule also appear. For CXone Workforce Management, the schedule is updated every 60 seconds and also updates the Coming Up list.

Messages (12)

Displays all messages from your supervisor or administrator. Unread messages are indicated by a red counter icon.

Launch (13)

If configured by your administrator, contains custom links to websites you may need to help you as you work.

More (14)

Opens the More Tools pop-over menu that contains troubleshooting information, a method for providing feedback about MAX to your administrator, custom personal settings, an alternate method to connect the agent leg, and a link to the online help.
Your company may use agent assist applications in MAX. These applications provide you information or guidance during an interaction. The type of information or guidance depends on which applications your company uses. The information or guidance appears on a panel that slides out on the right side of MAX at the start of the interaction.