Address Book
You can use the address book to place a manual outbound call or transfer a contact to another agent or skill. You can also make an outbound call to an address book contact while on an existing call. The contacts in the address book include recent contacts, skills

Used to automate delivery of interactions based on agent skills, abilities, and knowledge, teams, and other agents in your organization. You can use the search tool to quickly locate a contact; it displays results as you type.
Elizabeth Bennet is an agent in the contact center for Austen Building, a charitable division of Classics, Inc. that offers low- and no-cost housing for the impoverished. She works frequently with a group of volunteers for various projects who are internally referred to as The Regiment. The Austen Building administrator has created a custom address book for agents like Elizabeth, as shown in the following images.
Address Book Interface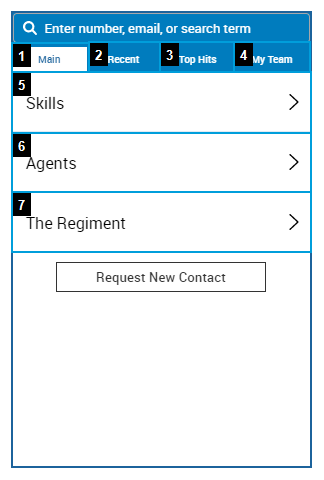 Menu Item
Description
Main (1)
The

Main

tab allows you to drill down through various categories, such as all  Skills, all Agents, and custom address books your administrator has configured. If you transfer or initiate an interaction to a skill, you will be connected with an available agent who possesses the selected skill. It is the default tab that appears when you open the address book.
Recent (2)
The

Recent

tab differs in name between the two instances of the address book: when you initiate a new call, it is called 

History

, and when you open the address book to transfer or conference a call, it is called

Recent

. In both instances it displays the last 24 hours or first 100 records, whichever is greater.
Top Hits (3)
The

Top Hits

tab only appears when you access the address book to transfer or conference a contact. It provides a list of the agents and skills to which your team most often transfers contacts. This filter is channel-specific, so only agents and skills relevant to the interaction type appear.

Top Hits

is sorted by relevance with the most commonly contacted skill and agents at the top.
My Team (4)
The

My Team

tab displays all of the agents on your team and whether or not they're available.
Skills Address Book (5)

Contains a list of all the skills to which you are assigned. From this list, you can make a call through a skill which will be placed in that skill's queue. You can also select a skill to display a list of agents that are assigned to the skill and make a call directly to 1 of these agents. You can see the status of the agents assigned to this skill, the amount of contacts in queue, and so forth.

Agents Address Book (6)
Provides access to the agents in your organization, categorized by the teams in your organization. You can call another agent in your organization by searching via their team or through the All Agents list.
Custom Address Books (7)
Address books that an administrator creates. These might be specific groups within your organization, a list of contacts outside of your organization, or a dynamic address book that is populated by a 3rd party source. The contacts in a custom address book may have additional options from which you can contact the person, such as a mobile phone number or email address.
Use the Address Book Tool
Click

New

.
Either begin typing the name of the contact or skill

Used to automate delivery of interactions based on agent skills, abilities, and knowledge in the search box or navigate the tabs and categories with your mouse.
Hover over the preferred contact or skill and click

Call

to place your call or

Email

to send an email.
You can make an additional call using the address book if you are also on an existing call (like a conference call) by repeating the previous steps.