Supervisor
The Supervisor application allows supervisors to monitor and interact with agents and view their performance in real time. You can:
Supervisor works alongside NICE CXone MAX, and you can be logged in to both simultaneously.
You should not run Supervisor and MAX in the same browser as it results in slower performance. Also, the Supervisor ability to coach, monitor, or take over calls supersedes the Auto-Accept setting in MAX. That means calls can be automatically connected even if you disabled the MAX setting.
Click here to view a comprehensive product training video for Supervisor.
Key Facts About
Supervisor
To launch

Supervisor

, click the grid icon in the upper right corner of the

CXone

web portal, then click Launch

Supervisor

.
If you cannot see the

Launch Supervisor

icon, verify your administrator has given you the correct permissions to do so.
To use

Supervisor

and

MAX

simultaneously, launch them in the same browser. If you launch

MAX

and

Supervisor

in different browsers and attempt to perform any telephony functions from

Supervisor

, another instance of

MAX

launches in the same browser anyway.
To use

Supervisor

telephony functions, you must configure and connect your agent leg

An active piece of a call that connects between routers, gateways, or telephony devices.

. If you forget to do so,

Supervisor

asks you to connect.
You cannot perform any telephony functions in

Supervisor

(such as monitor, coach, barge, or takeover) if you are in an available state in

MAX

. If your state is Available and you have both

Supervisor

and

MAX

open, the agent leg will connect and the incoming contact will automatically be accepted. To avoid this automatic connection and to enable telephony

Supervisor

functions, remain in an unavailable state.
The
Supervisor

Interface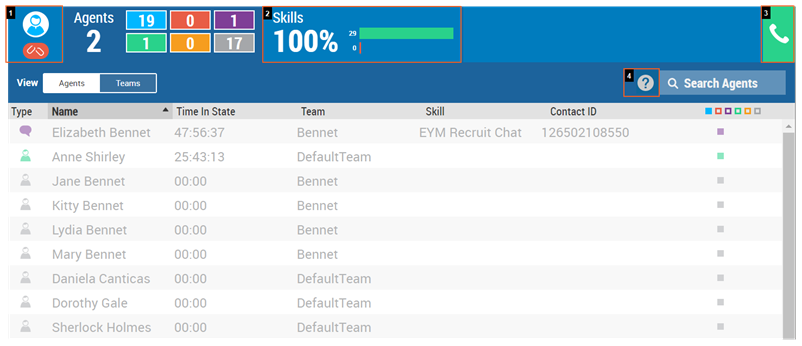 Interface Element
Description
Agent Information (1)

Displays your name, team name, and agent leg connection status.

Click the red broken link and use the integrated softphone, a phone number, or a station ID to connect the agent leg and enable telephony functions.

A green unbroken link indicates that your agent leg is connected.

Skills (2)
Provides a snapshot of the current SLA average for all skills. Click in this area to access the Skills and Campaigns view. Information in these views can help you manage queue performance.
Phone (3)
Click to filter the agent list view, showing only agents on an active call you can monitor. When you are actively monitoring a call, the call information appears in place of the phone icon.
Help (4)
Click to open the

CXone

Online Help

for

Supervisor

.
Agents View
The Agents view is the default view, and displays a listing of all agents you are allowed to see. From this list, you can drill down into a single agent and view detailed information about that agent's current performance. If the agent is actively engaged in a call, you can use this view to record, monitor, coach, barge in on, or take over the call.
Teams View
The Teams view displays agent states organized by team. You can see how many agents are in each state, per team, at a glance. You can drill down to see which agents on the team are in each state and even drill down into individual agents. Your permissions determine which teams you can see.
Contacts View
The Contacts view is available only if Omnichannel Session Handling (OSH) is enabled for a selected agent.
This view displays all of an agent's active contacts in real-time, including information about each contact. If you have the proper permissions, you can use this view to record, monitor, coach, barge in on, or take over an active call.
Active Time is the total amount of time the agent has been handling the contact. It is not the customer's total contact time.
Skills View
The Skills view displays a listing of the skills

Used to automate delivery of interactions based on agent skills, abilities, and knowledge currently in use. It separates the skills into those that are meeting service-level agreement (SLA)

Commitment between a service provider and a customer with a defined service level threshold, including quality, availability, and responsibilities. requirements and those that are not. You can see the SLA percentage, the number of contacts waiting in queue, and the amount of time the contact who has been in the queue the longest has been waiting.
When you drill down into a skill, Supervisor shows you the total number of agents assigned to the skill and the number of agents currently using the skill. The skill's SLA value displays the percentage of interactions that were within the required SLA for the skill. The SLA metric shown here includes active contacts only.
Campaigns View
The Campaigns view displays a listing of the campaigns

A grouping of skills used to run reports. currently in use. You can see the SLA percentage, the number of contacts waiting in queue, and the amount of time the contact who has been in queue the longest has been waiting. Your permissions limit the campaigns you can see.