Runscript
| | |
| --- | --- |
| | Continues script execution to a new script as if it were an extension of the calling script. |
Runscript and Runsub are similar, but have slightly different functions. When Runscript triggers a subscript, there's no way to return to the first script from the subscript. When Runsub triggers a subscript, the script can return to the first script, as long as the subscript has a Return action. The Return action provides a value back to the Runsub action when the subscript is finished.
Supported Script Types
| | | | | | | | |
| --- | --- | --- | --- | --- | --- | --- | --- |
| | | | | | | | |
| Generic | Email | Chat | Phone | Voicemail | Work Item | SMS | Digital |
Properties
Property
Details

ScriptName

The script you want to spawn. You can click the

Choose Script

link at the top of the action's properties box to select a script stored for your business unit.
Branches
None
Tips & Tricks
One of the benefits of using

Runscript

is that you can create smaller scripts instead of having one large script.
The main script and the subscript must be contained in the same folder.
The main script type and the subscript type must be the same. For example, if the main script is a phone script, the subscript must also be a phone script.
The

ContactID

will be the same for both the main script and the subscript.
After

Runscript

 triggers the subscript, the main script passes execution to the second script and no longer runs. If you want both scripts to run simultaneously, use a Spawn action. All variables from the first script are left intact in the second script.
If you intend to run another script and return to the first script upon completion, including the ability to pass and return values (like a programming subroutine), use Runsub.
The main script will terminate when

Runscript

triggers the subscript.
Phone Script Example Using
Runscript
The following example is a part of a much larger script. In this example, Runsub triggers a different script, in which the Return action enables the Case action in the script below to determine whether the organization is open, closed, or on holiday. If it is determined that the office is closed or on holiday, a Play action will play a specific message (either a closed message or a holiday message). The Runscript will then terminate the script and trigger the subscript.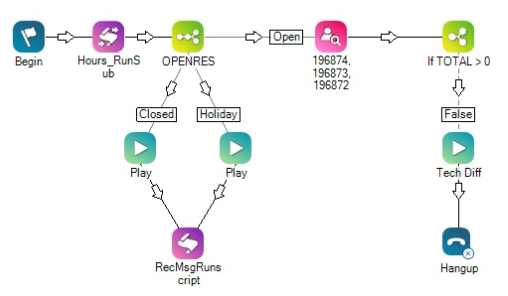 Would you like to download this script?
The subscript that Runscript triggers is shown below. The script enables the contact to leave a message. The main script passed a variable with the caller ID and contact ID

A unique numerical identifier assigned to each contact. to the subscript, which enables the contact to leave a message, review a message, take corrective action if no voice was heard, or to enable the contact to re-record their message.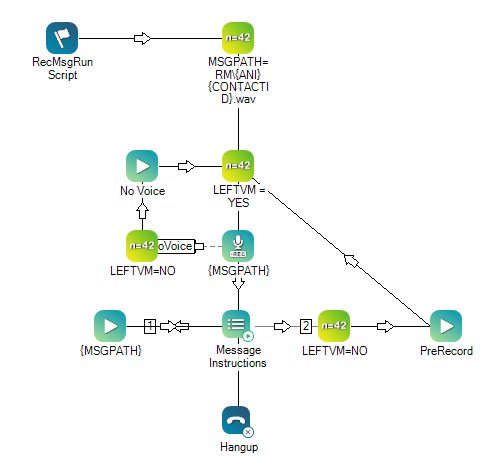 Would you like to download this script?